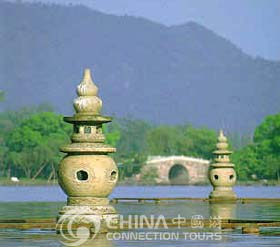 The islet is one of the three islands in West Lake; it is named as "Lesser Yingzhou" which means the "Fairy Islet". Among the three islets in the lake, the Lesser Yingzhou is the biggest and finest one. And it is recommended as "The best scenic spot in West Lake". The islet covers an area of 7 hectares including the water surface and features "a lake within an island and an island within a lake". The wonderful garden design made this islet very unique among the ten top views. This island was built in 1607 with dredges from the lake to create a lake within a lake initially. Afterwards, three small gourd- shaped pagodas were built in the south lake of the islet called "three pools".
The Three Pools Mirroring the Moon is one of the Ten Scenes of the West Lake. The three miniature stone pagodas rising from the water are two meters in height respectively, and were first built in Yuanyou in the fourth year of the Song Dynasty (1089) on the bank of the lake. Spherical in shape, they are hollowed inside, with 5 holes on the surface of the bulb. When the full moon is shining high above in the sky, people would light candles in the pagodas and seal the holes with thin paper. Shining through the holes, the candlelight is reflected on the surface of the water as if there were many little moons, producing a marvelous scene of "one moon in the sky, three silhouettes in the water". The Three Pools Mirroring the Moon is thus named.
These pagodas produce many magic views of the moon in the water, making people nostalgic and reminiscent of the woebegone days and happy moments in the past. On the night of the Autumn Moon Festival, the isle and its three miniature pagodas are the best attraction for moon spectators.