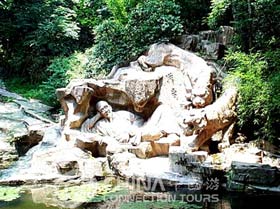 As one of the three best-known West Lake springs, Tiger Spring is situated at the foot of Daci Hill southwest to the West Lake. "Dragon Well Tea" and "Tiger Spring water" are rated as two uniqueness of the West Lake. According to the experts, the mineralization of the spring water is as low as 0.02 – 0.15 gram in every liter because the water is seeping through quartzite contains little dissolved matters. Therefore, its water is pure and clear. And also tests show that the water is contributive to people's health.
Legend has it that there was not always water at Tiger Spring. Some 1,300 years ago, Xingkong, the founder of the site, had almost given up due to the lack of drinking water. However, one night he was told in the dream that soon two tigers would come to help him. Next day when he woke up, he saw two tigers clawing the ground, and soon after that, the spring suddenly gushed out. Su Dongpo of Song Dynasty praised Tiger Spring in his poem "the Taoist master grudges no water and share it with ordinary people". After a full scale reconstruction, Jigong Tower Courtyard and Arhat Hall were restored, and the vivid relieves of Tiger and Jigong were licked into shape.
Along the foot of the hill, there is a streamlet meandering. It is a pleasant experience to listen the spring there. Walking along the path, you will see a tiger status at the foot of the Luxuriant Green Cliff. From the left side of the cliff is the source of the spring. This place gives you a very happiness to watch the spring. Then, you can have a seat in a tea house near the cliff to enjoy a cup of Dragon Well green tea brewed in Tiger Spring water. You will find the spring water can bring out the best in each. It is called "spring taste".